This very special SCIENCE episode of the Vigilance Press Podcast features guest Mike Olson, designer and author of the Atomic Robo RPG!
We talk about the setting, the comics, the rules, and what makes this game special. Mike also gives us a few tips for running Fate for maximum fun value! Over an hour of Science Celebrity Action!
Wonder no more!
Here is the Print Proof for Tianxia: Blood, Silk & Jade. The stack on the upper left are sections of pages bound and glued together to create the "Side-by-Side" page effect so I can look them over for layout and typos. The BIG stack on the upper right are my "Laser Color" proofs to show how the actual color will look when printed, and the unfolded page at the bottom is the laser proof of the cover (which will wrap around the book, so the back is to the left and the front is to the right).
This is my homework tonight and tomorrow!
(Click the image to embiggen!)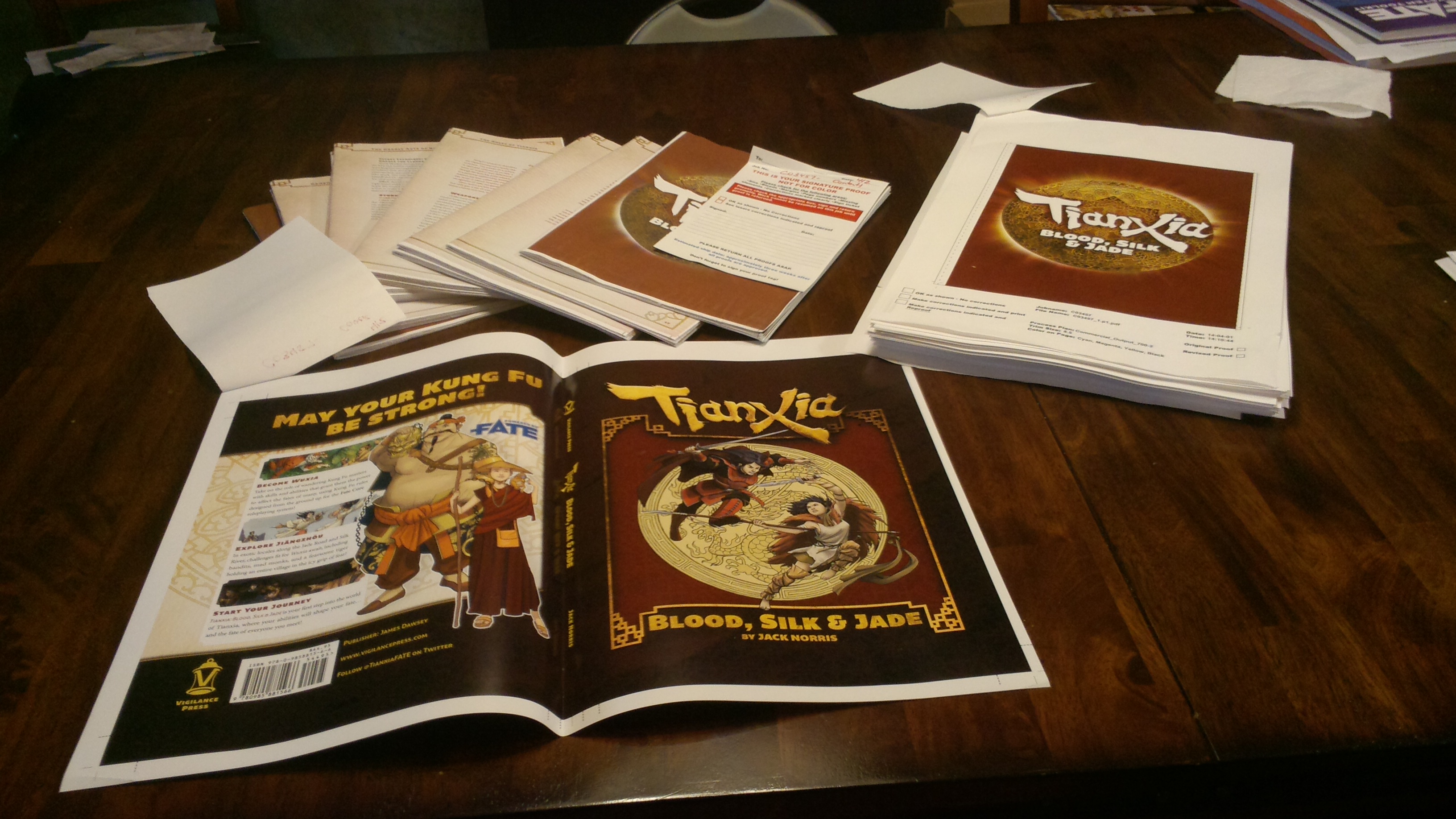 For all the latest news on Tianxia, check out today's Kickstarter Update 34!
Or just click "Continue Reading" here and I'll fill you in on the details right now:
Yes, two in one week! (I might be trying to make up for some lost time…)
In this episode of the Vigilance Press Podcast, I talk to Brian Engard about his work on various Fate Roleplaying Game projects, including (but not limited to) Fate Core System, The Dresden Files Accelerated, Venture City Stories, and more! For our superhero fans, we spend a lot of time delving into Venture City Stories, which I'm very excited about.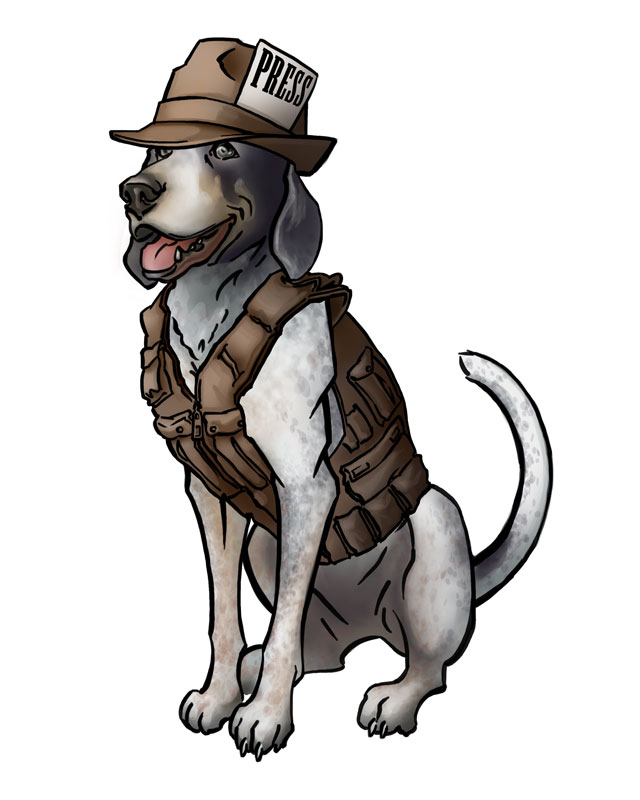 Dusting myself off after months of "Crunch Time" I've finally been able to return to recording episodes of the Vigilance Press Podcast! In this episode, Jon Leitheusser and Steve Kenson of Green Ronin stop by to discuss Icons: The Assembled Edition, The Emerald City hardcover book, and the new PDF "bi-weekly" line The Atlas of Earth Prime!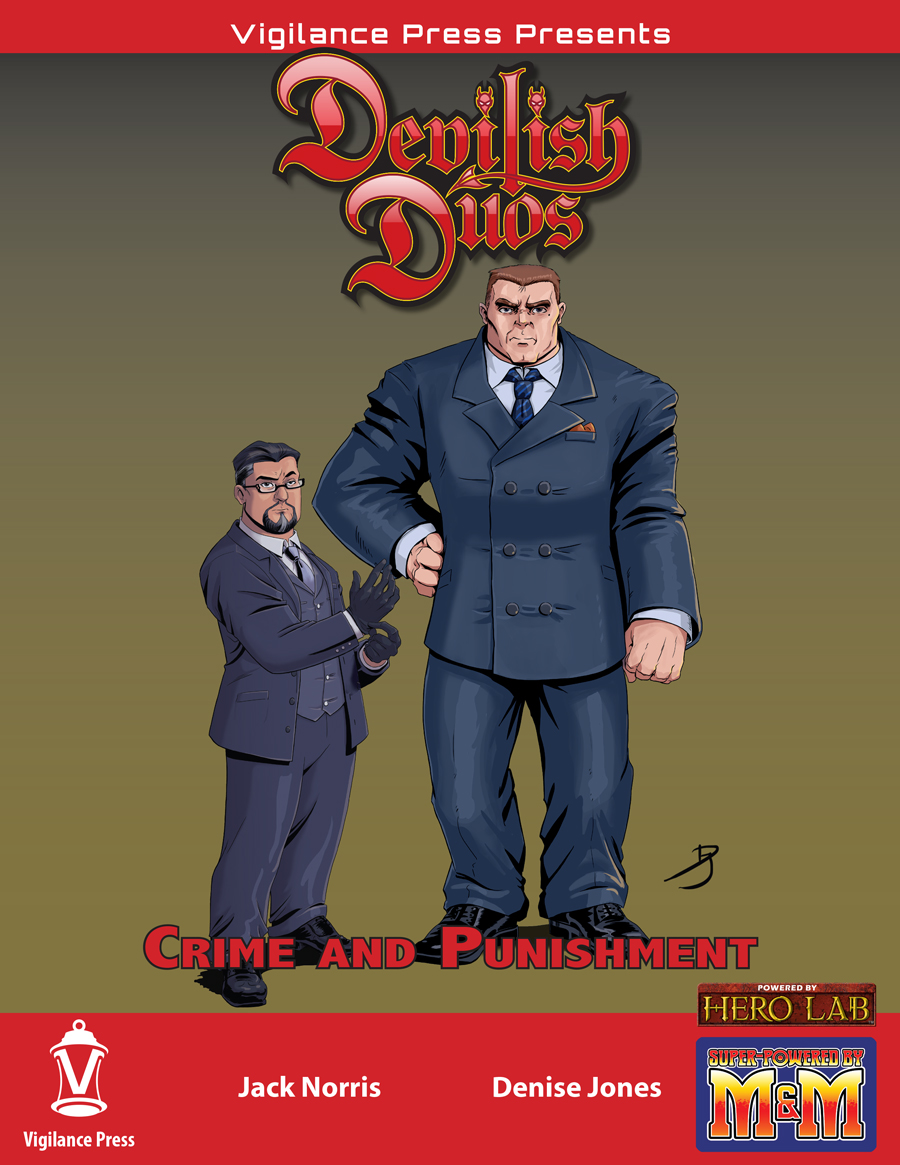 Now available from Drive-Thru RPG and RPGNow.com, Devilish Duos Issue 5: Crime and Punishment!
Devilish Duos Issue Five Introduces the wicked Mister Crime and Mister Punishment, two master criminals who are poised to take over the underworld of your favorite superhero setting! Suitable for games of any power level, these two are particularly well-suited to "Iron Age" or "Street Level" superhero campaigns where the heroes range in Power Levels from 6 to 8. With Mister Crime's devious plans, however, even more powerful heroes will consider these two too dangerous to ignore.
Tianxia: Blood, Silk & Jade is now available for purchase at RPGNow and Drive Thru RPG! Click this link to be taken directly to the product page.
We thank our Kickstarter backers and Vigilance Press supporters for helping us make this product a reality. We're in the process of getting this PDF ready for print, but we do plan to update the final PDF on RPGNow with an updated version including bookmarks in the near future. Anyone who buys this version will be able to download the updated file from their library for no additional charge.
Backers should already have received instructions on how to get their copy of Tianxia: Blood, Silk & Jade from the Kickstarter forms. If you haven't, contact me via Kickstarter or through the website here, and I'll make sure you get your copy.
We want your feedback!
Check this special update here for the links you'll need in order to help us make sure the final text is ready to go to print!
Greetings Vigilant Ones!
It's been a busy couple of months, but we're very close to the first major milestone for Tianxia: Blood, Silk & Jade! The PDF is in final approval now, and assuming we don't need to make any changes we'll be releasing it very shortly to our backers via RPGNow and Drive-Thru RPG. There will be an email coming to you with instructions on how to do this, so keep an eye on this space and the Kickstarter update page.
For those of you who joined after the Kickstarter campaign ended, you have until February 28th, Friday, to finish your BackerKit profiles and make sure your payments went through. For many of you, this is simply book-keeping to make sure I have your information accurately entered into BackerKit, but for some this is a final chance to complete payment on your rewards. Check your spam filters for BackerKit invites and if you don't have one, be sure to let me know!
With luck, the final PDF will be going out to backers as early as this weekend, but it should be next week at the latest!
We'll be asking for feedback from our ardent followers before sending the PDF files to the printer, and instructions for that will be released shortly after the instructions to obtain your copy of the PDF.
Here's a link to the full announcement Update at Kickstarter!
Hey guys!
I just wanted to direct everyone over to our Kickstarter Update for Tianxia, in case you haven't seen it yet. In it, I detail some of our plans for Spirits, Beasts & Spells, as well as go over what we've been up to for the past month. New stuff is coming soon, including the start of playtesting for the Lifepath Generator!
Here's the link to the full update: https://www.kickstarter.com/projects/326055564/tianxia-blood-silk-and-jade/posts/749047
Thanks again for helping us make Tianxia a smash hit!
-James