Published
September 28, 2015
|
By
James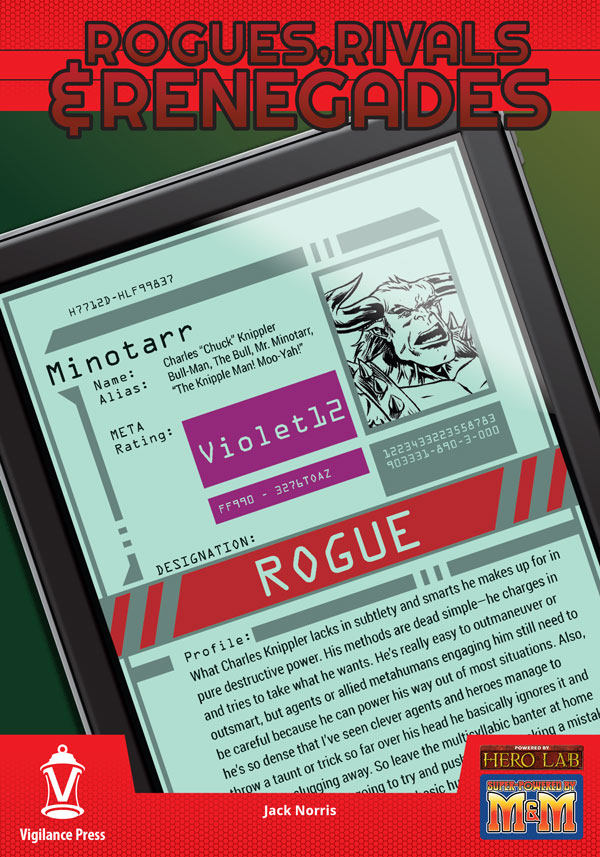 Now available at Drive Thru RPG and RPG Now!
The running of the bull… Minotarr!
A Power Level 12 Rogue, Minotarr is a brute your players will love to hate. This thuggish fool has been cursed with great power, despite having no sense of responsibility! Not the world's most inspiring leader, he still brings with him a number of power level 7 thugs who're just as obnoxious and bull-headed (well, figuratively) as their leader. Minotarr is a classic villain archetype in the Beacon City universe, but can be dropped into any campaign with very little alteration.
Minotarr is designated "Violet" for his magical origins. This can attract the attention of heroes of a mystic bent who aren't used to dealing with foes who are so direct in their villainy or methods of combat. Of course, because Minotarr holds grudges easily, he makes a great nemesis for any hero who stands between him and whatever he wants to grab by force. Editor's Note: Paired with Ticktock, Minotarr makes for a fun "Old West" themed episode of your game. Your players may get a lot of mileage out of bull puns at his expense!
Welcome to Rogues, Rivals & Renegades. Each entry in the series is designed as a villain, a potential ally with complications, or an outsider who might help the PCs one day and be at odds with them another. Each character has the potential to become a mainstay of your campaign!
Rogues, Rivals & Renegades are presented as files from a meta-human monitoring agency called METAs, with a loose frame story connecting them to Vigilance Press's own Beacon City setting. They are designed to drop into any setting with minimal effort, however, and the METAs commentary is written to give you a better picture of each character's personality and threat level. Each issue gives you a background for the character, commentary from METAs files, a standee to print and play with, and Hero Lab files for key characters!
Authored by Jack Norris with full color art by Alex Williamson, and layout by Ruben Byrd. Designed for the Mutants and Masterminds Third Edition Roleplaying game.