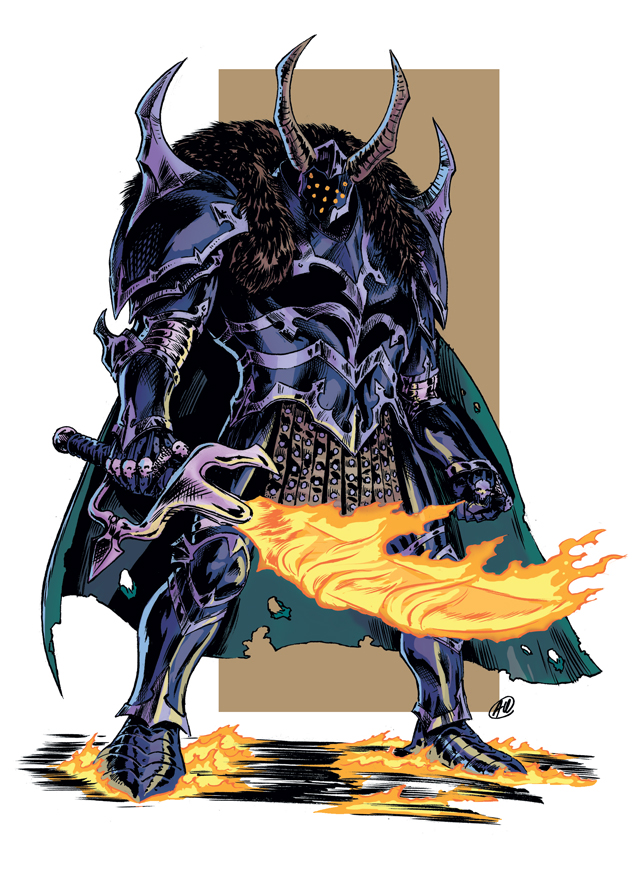 The latest Vigilance Press Podcast is now up and making the rounds! In this episode, Rick Jones and Tolly Gipson join me to talk about Campaign Creation, and how longer-form campaigns differ from more episodic campaigns. Hear me completely mix up my definitions at least once! Can you spot it? After the Campaign Creation discussion, we switch topics and give a spoileriffic review of Iron Man 3, but we give you fair warning so you can tune out before we ruin it for you.

 Check out the podcast here!
Today we're also updating the Rogues, Rivals, and Renegades gallery with new artwork! We have several newly colored pieces from Denise Jones in the mix, including the fearsome Fright Knight! (Pictured) Check out the gallery at this link, here!
Super Rescues
By James Dawsey
What is a Rescue Scene, and why is it important?
In superhero role-playing games, as in comics, the focus of action scenes often revolve around conflicts between heroes and villains. In the fiction, however, some of the most memorable scenes are not about conflict between characters, but a hero's struggle to protect and safeguard innocent people caught in situations too dangerous for them to handle alone. This leads to one of the most iconic kinds of scenes in Superhero fiction: The Rescue Scene.
Rescue scenes are more than just busy-work for a hero. A hero who spends all his time fighting and doesn't interact with the civilians he is meant to be protecting can seem cut off from the world, or worse, selfish and un-heroic. Part of what makes someone Heroic is the notion that what they do isn't motivated by pure self-interest. They are heroic because they are making the world a better place through their actions. This element of selflessness appears in varying degrees for different characters, but for the most memorable and enduring super-heroes, exciting rescue scenes are almost synonymous with their name.
This essay is a quick attempt to break Rescue scenes down into clearly defined elements and steps, with the goal of making them easier and more appealing to run in a role-playing game. I'll be referring to an example scene from the classic 1978 film Superman: The Movie to help illustrate my points at the end of the essay. If you haven't seen that film, I highly suggest watching it before reading the final section of this article, simply because I will be spoiling one of the most iconic scenes from it in detail here.
Mutants and Masterminds Line Developer Jon Leitheusser and writers Christopher McGlothlin and Seth Johnson join me for a chat about the final book in the DC Adventures series: Universe! We talk about fun, factoids, comparing game systems, and more! Tune in here!
Mutants and Masterminds designer Steve Kenson and author Aaron Sullivan join me to talk about the fourth and final book in the DC Adventures Role-Playing game series: Universe! Join us to find out more of what's in the book, how the series came together, and more! Podcast link is here!
Find the book available for Preorder and in PDF now at http://mutantsandmasterminds.com/!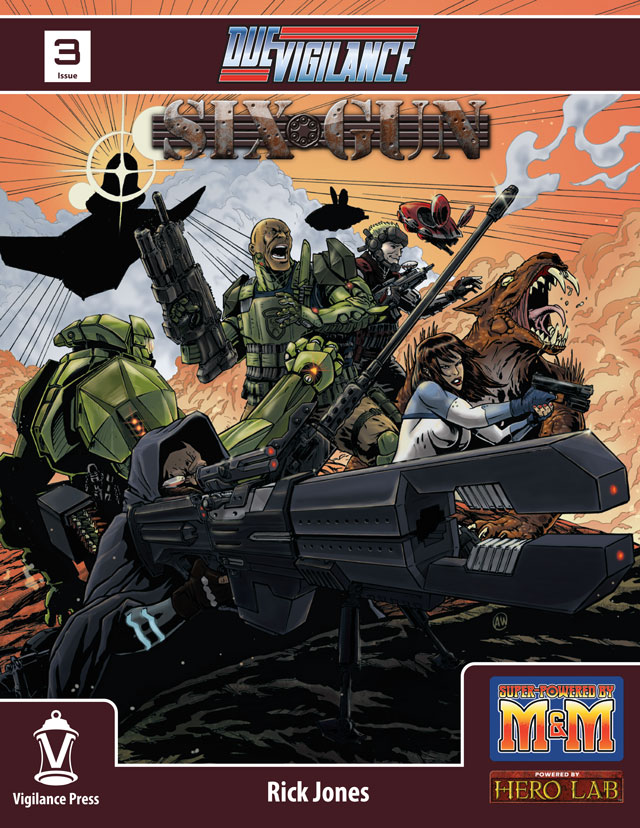 At last! We apologize for the wait, but SixGun is now available as a Print on Demand book from CreateSpace! It will propagate over to Amazon.com in the coming days auto-magically, but you can order it directly from CreateSpace right now at this link!  We're very happy with this book, we hope you enjoy it as much as we enjoyed making it.
If this is your first time hearing about SixGun, here's a primer for ya!
Lock and load!
Private Military Companies are becoming more and more common, exchanging higher costs for better trained and better equipped military specialists. In a world where people in spandex can juggle armored personnel carriers, they need to be even better trained and better equipped! Enter SixGun, a team of cybernetic super-soldiers who will work for anyone if the price is right. Author Rick Jones brings you a team of ruthlessly efficient, battle-hardened foes for your Mutants and Masterminds Third Edition campaign, ready to deploy at a moment's notice.
No battle theater is off-limits for these six cyborgs. Marauder, Camo, 3Chelon, Headcase, Deadeye, and "Spot" have the technology and the skill to strike anywhere the money leads them. With art by Alex Williamson, Yad-Ming Mui, Denise Jones, and Jesse Justice, this full-color book brings illustrations for the team, their gear, and their support personnel. We also include full-color standees for you to use at the gaming table.
If you're not familiar with Private Military Companies, fear not, we've included an essay on their history and how they operate… both in the real world, and in the world of your own Superhero campaigns. We also include background and history for the insidious Orion Private Security, whose mysterious connection to SixGun is still classified "Eyes-Only" for the Game Master.
So make one final gear check, and prepare for a fierce battle. SixGun is ready, are you?
"Sanguine et Aurum! Blood and Gold!"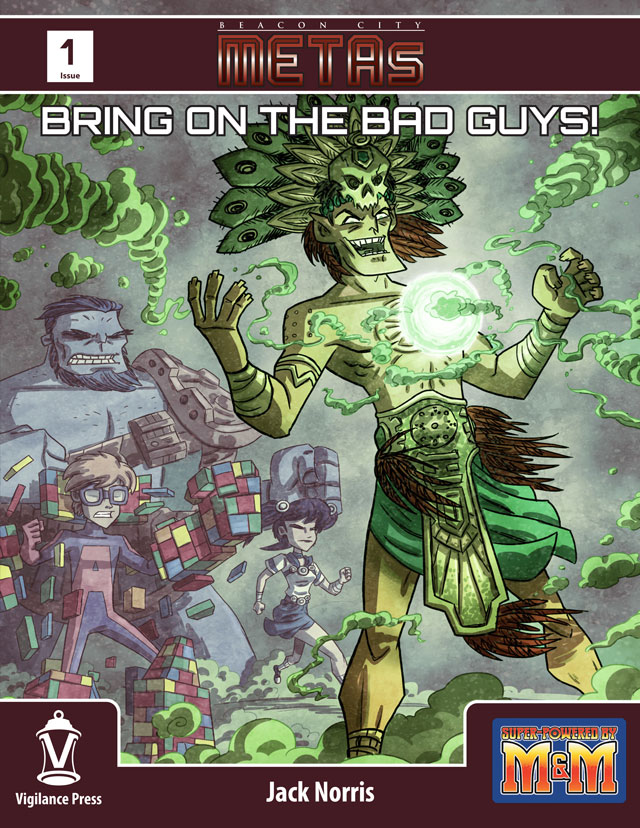 It's here! It's here! Beacon City METAs Issue 01, "Bring On the Bad Guys!" Already available in PDF, now you can order it from CreateSpace in print form! Click the image to the left, or click this link to go to the CreateSpace E-store and get your copy! SixGun will be following shortly! Amazon will have METAs available in a few days, watch this post for an update when they do! 

Thanks again for participating in this exciting project, and we can't wait to tell you about our next Beacon City METAs character submission drive, later this year.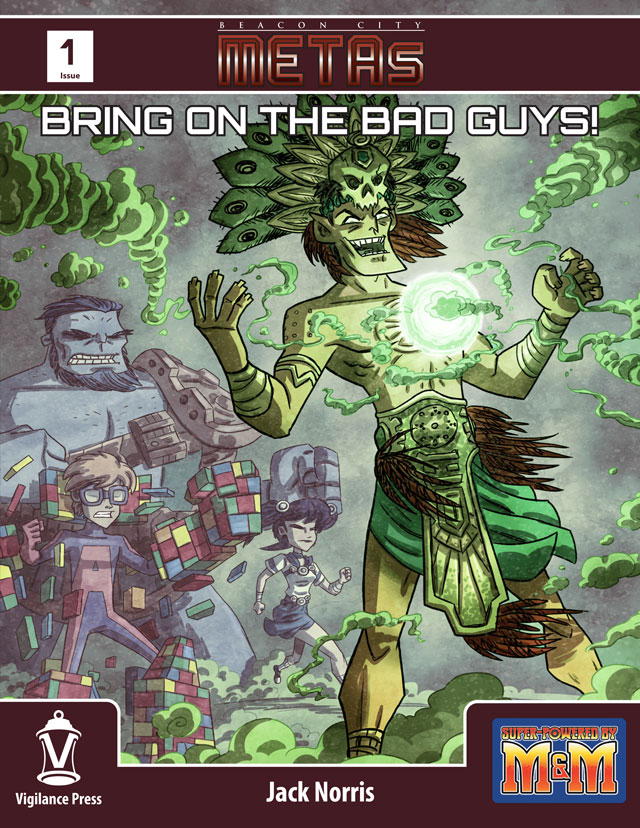 Beacon City METAs Issue 01: Bring on the Bad Guys! is now available at RPGNow and Drive-Thru RPG!
For the delicious price of $4.99!
Attention: Have your security clearance clearly visible at all times!
The Metahuman Evaluation and Tracking Authority was instituted to keep track of the powerful beings who took the world of Beacon City by storm. It collects data from a number of sources and shares it between various law enforcement agencies and the military. Now, with this first dip into the METAs database, we present you with a new resource for characters for your games… your fellow players from around the globe!
Welcome to METAs, a series of supplements for Mutants and Masterminds featuring characters submitted by players just like you! To start you off, issue one features eight fully-statted and illustrated characters, including color commentary from METAs personnel. If that wasn't enough to pique your interest, we included a 5-page article from Maestro Game Designer Jack Norris on how to run a Villainous campaign, "Bring on the Bad Guys!" With this information at your disposal, feel free to drop these heroes and villains into your game and use them however you wish. There are heroes in here for you to add to your campaign's background as allies for your players, and some characters who would easily be used as villains as well. Or flip things around and have your players take on the roles of villains, and use these and other heroes against them!
Special highlights in this issue include contributions from Leon Chang, Rick Jones (Due Vigilance: Six Gun) and Steve Perrin (Amazing Stories of WWII: Homefront Heroes, and Homefront Villains)! Illustrations are courtesy of Alex Williamson, Jesse Justice, Denise Jones, and Dan "Alien Mastermind" Houser. From the childlike antics of Kid Awesometastic to Mictantlocan, a sinister avatar of death, you're sure to find some surprises inside the METAs database.
Stay inside the clearly marked areas, and do not attempt to remove any files from the secure zone. Any copies must be verified by the attending clerk.
Thank you for joining METAs!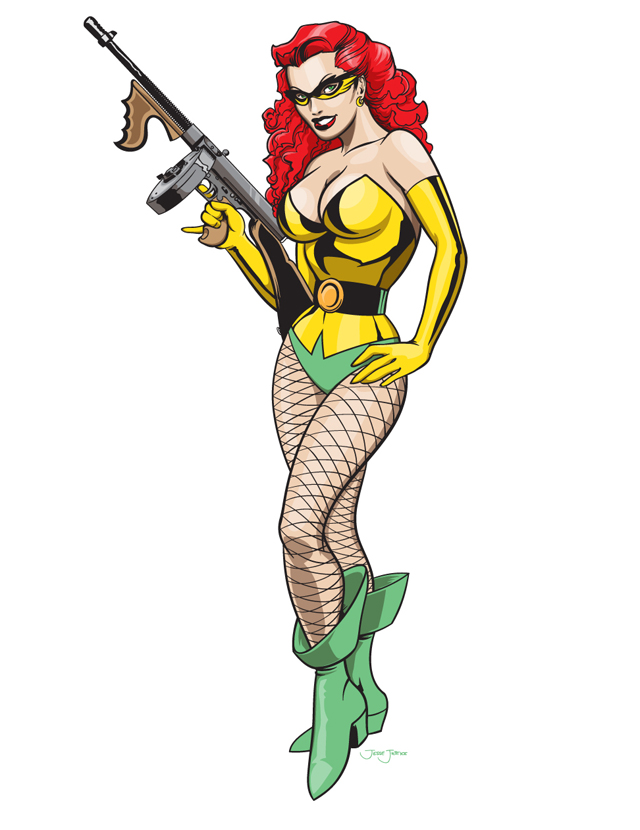 It is our Honor to bring back Chris Rutkowsky, an old friend of Vigilance Press, to talk about his latest RPG endeavors! First we cover his current Kickstarter for the Awesome Power Power Suites (which you can find here), and then I talk to him in detail about the very impressive Honor + Intrigue! Tune and and check it out! This one is only an hour long… I promise!

Also noteworthy, check out our new preview gallery for The Forgotten Five, our next Due Vigilance product for Mutants and Masterminds, by Jason Tondro!
Thanks again to Chris for stopping by!
The Lamplighter, Tempest, Jade Witch, and Star Child join forces to confront two armies with Beacon City trapped between them in this epic conclusion to "Season One" of our Mutants and Masterminds Actual Play series! James Dawsey GMs and is joined by players Jason "Doctor Comics" Tondro, Rick Jones, Lynn Hill, and Theron Bretz. As always, we welcome comments and suggestions below! By the way, at the start of the show I mention a potential run time. I was WAY off. The show actually runs about 5 hours… thanks to my awesome players for enduring the night!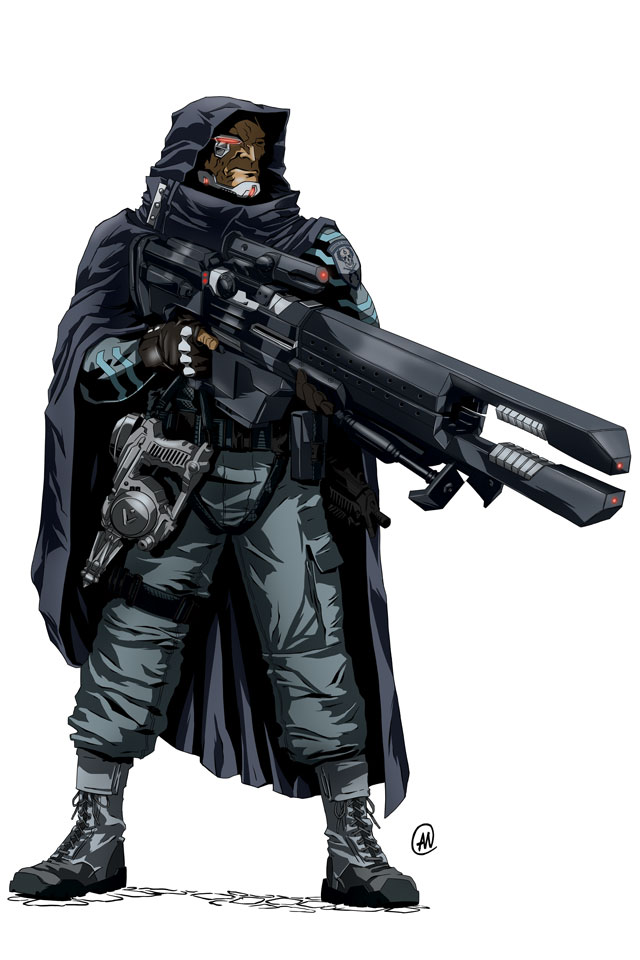 Rick Jones's cybernetic super-soldiers are now ready for your Mutants and Masterminds campaign! Six battle-hardened foes for your Mutants and Masterminds campaign, the SixGun mercenary team are well-equipped to deploy in any circumstances! They'll work anywhere, and for anyone. If your mastermind villain needs some extra muscle, he need look no further than Due Vigilance: SixGun!
With amazing, full-color artwork and Hero Lab portfolio files, this product is fully kitted out! We also include background information on Private Military Companies, both for the real world and your supers campaigns, and support personnel and background characters for the SixGun team themselves. Also included is the top-secret details of Orion Private Security and their mysterious connection to the SixGun crew!
Now on sale for the whimsical price of 8.66! Check it out at RPGNow and DrivethruRPG!