In our latest campaign update, I let everyone know that we're going to unlock the fiction anthology if we reach 1,000 backers, no matter what our total take is. 
There's also a bit of original fiction from Jack Norris, a taste of the upcoming Tianxia: War, Iron & Stone PDF supplement.
I also mention some of the amazing authors we have already announced: Robin D. Laws, T.S. Luikart, Gareth Skarka, Michael Underwood, Allen Turner, Aaron Rosenberg, and Jack Norris.
There's one more author I'd like to announce now: John Rogers.
You may know John's work on the TV show Leverage, or you may know him from his guest appearance on Wil Wheaton's "Tabletop" show, or you may be like me and know him from his work in comics. He's a fantastic author, and a fan of role-playing games and Fate Core. When I saw he had backed our project, I was excited. When I contacted him about the anthology and he agreed to participate (we extended the deadline a bit to enable his participation) I was thrilled!
We may be announcing a few more authors before the book comes out, but I couldn't wait to share this one with everyone. Thanks to all of the amazing authors for their enthusiasm for the project.
Backers: We need your help to hit that magic 1,000 backers so we can produce this book! If you're at all interested in solid genre fiction, please let your friends know about Tianxia: Blood, Silk & Jade. Let them know about all the goodies they can get by backing us at the $15.00 level! As of now, that includes the PDF for Tianxia: Blood, Silk & Jade, the Mass Combat rules and additional setting material in Tianxia: War, Iron & Stone, the Lifepath Generator, the Tianxia Arcana for the Deck of Fate, the Fate Accelerated Addendum for the Lifepath Generator, the Illuminated Stars of Destiny bonus PDF, and the Twelve Golden Butchers adventure!
That's a great value for $15.00… help us make it even better by unlocking even more great stuff!
And it's no secret that if we can get 250 more backers, there's a very good chance we'll also unlock Ryan Macklin's Tianxia: Spirits, Beasts & Spells. His magic system is one of the most-asked-for new pieces of the Tianxia universe! That and the Fiction Anthology are both part of the growing stack of awesome digital extras.
-James Dawsey
In this episode of the Vigilance Press Podcast, I talk to Jon Leitheusser and Steve Kenson from Green Ronin about the annual Green Ronin Summit. The topic includes the business side of the summit, their publishing schedule for the near future, and some of the behind-the-scenes workings of Green Ronin. As always, it's a pleasure to have them on the show and we look forward to the next episode with them!
Here's the link to the podcast!
Check out our latest public update for Tianxia: Blood, Silk & Jade for a new free Wallpaper image and exciting news about an upcoming stretch goal! Click here for more details!
Vigilance Press is proud to make our press materials available to any websites who would like to talk about Tianxia: Blood, Silk & Jade, our currently-running Kickstarter Campaign. For a direct link to the kickstarter campaign, click here. For press materials, contact me through the website and I'll send you a link for our background materials!
As always, we're happy to participate in podcasts and video interviews to discuss Tianxia. Contact me for scheduling arrangements!
-James Dawsey
Public Backer Update 03 Summary: THANK YOU!!!! Also, for those just joining us, instructions on how to download and read the Playtest PDF. If you have no idea what this post is about, check out our Kickstarter here!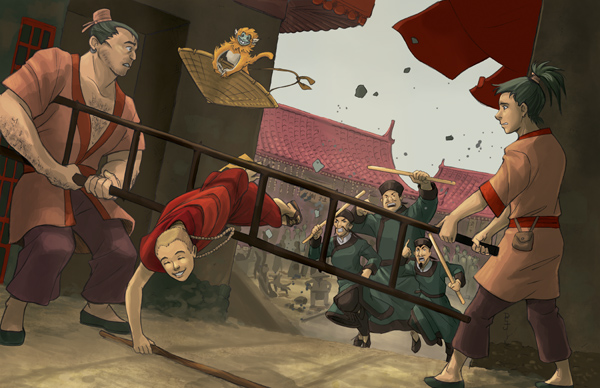 With the grace and speed of a kung fu master, head to Kickstarter to back this amazing book!
Here's the link. Go! Go! (I'll edit this post later with some more handy info)
http://www.kickstarter.com/projects/326055564/tianxia-blood-silk-and-jade

We have submitted our Kickstarter project to the folks at Kickstarter.com, and are awaiting their approval. During this process, I thought it might be nice to let you folks know what we have in store for you. So this link will take you to the current draft of the Kickstarter page. If you have any feedback, please feel free to leave it on the Kickstarter page using the feedback tool!
The Kickstarter is not live yet, so you can't pledge now. As soon as the Kickstarter does go live, we'll be sure to let everyone know!
Edit: I've just posted a podcast I recorded with the author, Jack Norris. I think this will answer a lot of questions about the project, and hopefully give you something to think about while we wait for Kickstarter's approval process.

 http://vigilancepress.podbean.com/2013/10/11/tianxia-kickstarter-draft-page-is-up-check-it-out/
We're very excited to tell people about Tianxia: Blood, Silk & Jade. We hope you'll join us for this journey, our very first Kickstarter campaign.
May your Kung Fu ever be strong!
-James Dawsey
In this episode of the Vigilance Press Podcast
, I have the distinct pleasure to talk to Ryan Macklin, editor and game designer. Ryan talks to me at length about Mythender, his free RPG available for download from Drive Thru RPG and RPGNow.com. We also go into publishing via Drive-Thru's Print on Demand tools and discuss his editing work with Paizo, publishers of Pathfinder. There is a smattering of colorful language in this episode, so this podcast *might* not be safe for everyone, if "F-Bombs" are deemed offensive.
Links to his personal site and the Mythender site are below, check 'em out and enjoy his game!
Vigilance Press will be hosting several Mutants and Masterminds game sessions this weekend!
Thursday: 6-10pm "Kaiju Kultists Attack!" Hosted by Aaron Sullivan, 6-10pm "Where There's Smoke…" Hosted by James Dawsey
Friday: 1-5pm "Kaiju Kultists Attack!" Hosted by James Dawsey
Friday 6-10pm "The Price of Freedom" Hosted by James Dawsey
Saturday: 6-10pm "Where There's Smoke…" Hosted by James Dawsey
Sunday: Noon to 4pm "The Price of Freedom" Hosted by James Dawsey
All our games are full, but if you really want to play, stop by and see if anyone decides not to show. We kept all our entry prices at the bare minimum, so $4.00 of generic tickets are what you'll need to get in. Hope to see you there!
Additionally, you can find author Jack Norris spending a great deal of time at the Green Ronin booth showing off the Dragon Age and M&M games. Check for the Dragon Age panels this weekend as well!
I'll be buzzing around the con for the rest of the weekend, meeting fans and being a fan. I'm so excited, I can't wait to get this party started!
-James Dawsey
Vigilance Press, Gen Con 2013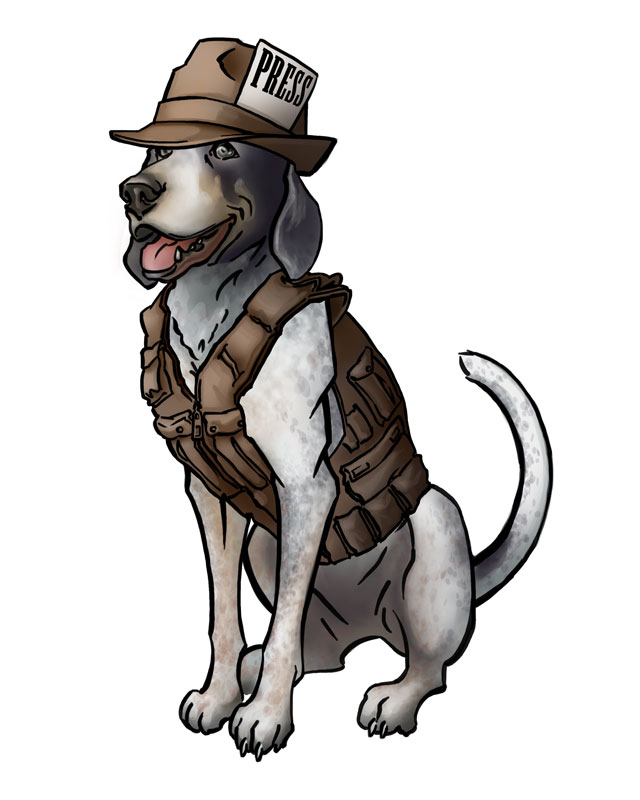 Fans of our Beacon City Podcast adventures from last year will recognize Nero the Newshound as the talking dog from Beacon City who likes to sniff out a good story. He's featured on Green Ronin's website today as part of the "First Appearances" series of PDFs, free for download! You can find his First Appearance (along with Michael Schell's "Ogre Bear") at this link!
The First Appearance PDFs collect characters submitted by Mutants and Masterminds fans as part of the Hero's Handbook 10th Anniversary Kickstarter from earlier this year. We're happy to join Green Ronin in bringing you this first, fully-statted out appearance of Nero, by Vigilance Press mastermind Jack Norris!