Tianxia: War, Iron & Stone is now available from Drive Thru RPG and RPG Now in both PDF and Print on Demand formats!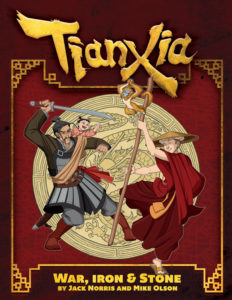 War rages in the Icy North of Tianxia!
Tianxia: Blood, Silk & Jade brought Kung Fu to the Fate Core System… now Tianxia: War, Iron & Stone brings Mass Combat to the world of Tianxia!
The Lands of the Ice and Snow
Tianxia: War, Iron & Stone expands the world of Tianxia, detailing the two Northernmost povinces: Huangzhou and Dongzhou. Discover the Great Wall, Ghost Song Forest, Emperor's Ferry, and more!
When two tribes go to war
In a world where kung fu is king, even wuxia heroes sometimes face battles too large to fight alone. Mike Olson's martial-arts-infused mass combat rules add a new dimension to the world of Tianxia!
Friends, foes, and Faultless Wu
Within these pages you will encounter many new faces from the world of Tianxia. From Grandmaster Faultless Wu of the Three Mountains School, to Frozen Flower, snow maiden of the North. Prepare to encounter many new, iconic characters who will breathe new life into your campaigns.
Tianxia: War, Iron & Stone is written by Jack Norris and Mike Olson, with full-color art by series illustrator Dionysia Jones. Designed to work with the Fate Core System!
For everyone who hasn't backed the Kickstarter but wants to pick up the latest book, you can find the product at Drive Thru RPG at this link:
War, Iron & Stone at Drive Thru RPG
Please feel free to share that link to your friends and other gamers who love Wuxia and Tianxia! We're very excited to launch this book and introduce you to two new provinces in our world, not to mention the new mass combat rules by Mike Olson. We hope you'll love this book as much as we loved working on it.
Thank you again for backing us, and we hope to present the next Tianxia supplement, Tianxia: Strife, Fire & Smoke, very soon!
-James Dawsey