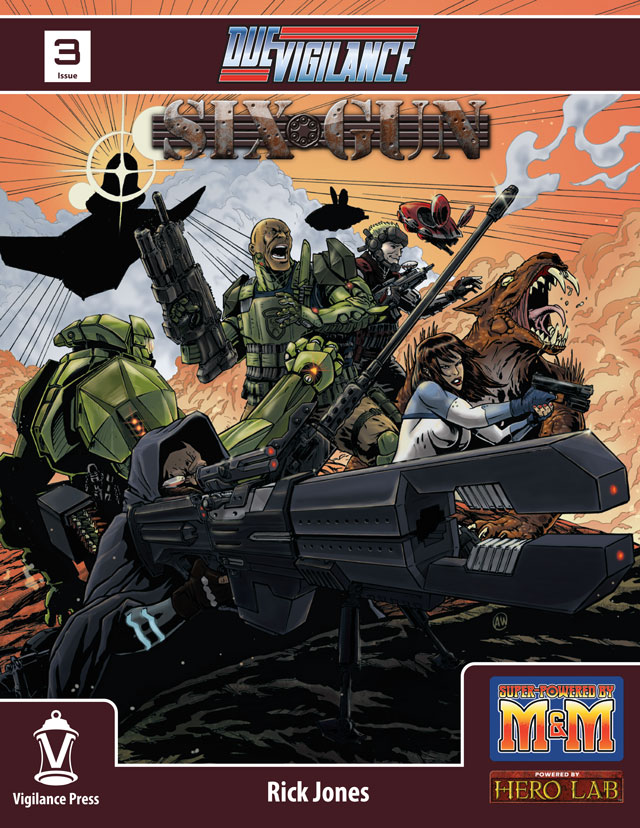 At last! We apologize for the wait, but SixGun is now available as a Print on Demand book from CreateSpace! It will propagate over to Amazon.com in the coming days auto-magically, but you can order it directly from CreateSpace right now at this link!  We're very happy with this book, we hope you enjoy it as much as we enjoyed making it.
If this is your first time hearing about SixGun, here's a primer for ya!
Lock and load!
Private Military Companies are becoming more and more common, exchanging higher costs for better trained and better equipped military specialists. In a world where people in spandex can juggle armored personnel carriers, they need to be even better trained and better equipped! Enter SixGun, a team of cybernetic super-soldiers who will work for anyone if the price is right. Author Rick Jones brings you a team of ruthlessly efficient, battle-hardened foes for your Mutants and Masterminds Third Edition campaign, ready to deploy at a moment's notice.
No battle theater is off-limits for these six cyborgs. Marauder, Camo, 3Chelon, Headcase, Deadeye, and "Spot" have the technology and the skill to strike anywhere the money leads them. With art by Alex Williamson, Yad-Ming Mui, Denise Jones, and Jesse Justice, this full-color book brings illustrations for the team, their gear, and their support personnel. We also include full-color standees for you to use at the gaming table.
If you're not familiar with Private Military Companies, fear not, we've included an essay on their history and how they operate… both in the real world, and in the world of your own Superhero campaigns. We also include background and history for the insidious Orion Private Security, whose mysterious connection to SixGun is still classified "Eyes-Only" for the Game Master.
So make one final gear check, and prepare for a fierce battle. SixGun is ready, are you?
"Sanguine et Aurum! Blood and Gold!"