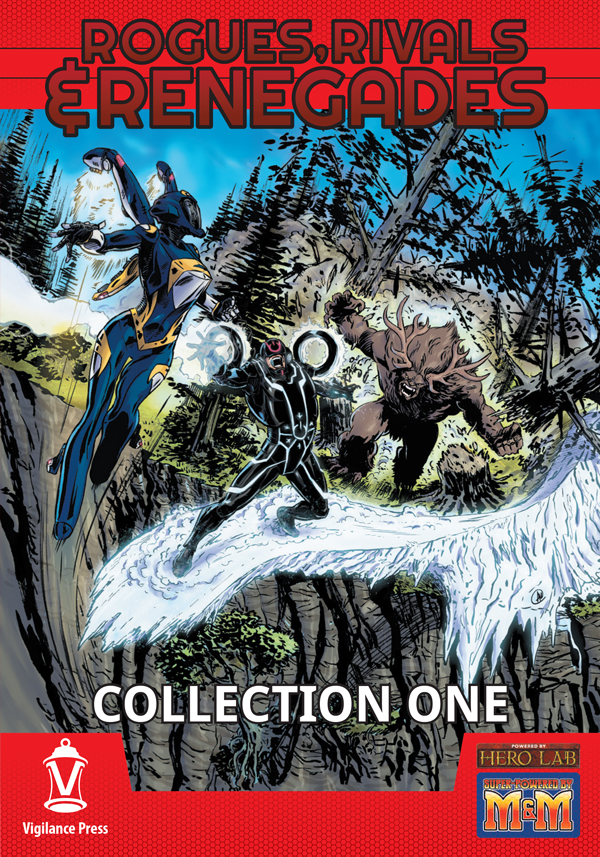 Now Available at Drive Thru RPG!
From the Files of METAs…
Rogues!
Ne'er-do-wells of the worst sort, these super-criminals have been flagged as dangerous, and should be approached with extreme caution. Each Rogue has a detailed history, tactics, and nemesis options for introducing them as long-running foes for the heroes in your supers game!
Includes: Afterburner, Black Heron, Calypso, Coldsnap, The Conductor, Overclock, Dr. Grimm, El Conquistador, Fright Knight, Iron Dog, The Krampus, Minotarr, The Thespian, Ticktock, VXen, and Dr. Wachsfigur.
Rivals!
These would-be-heroes are perfect additions to your Mutants and Masterminds games. Each one can be played as an ally or complication for your heroes, making them perfect long-term supporting characters in your campaigns.
Includes: Captain Archon, Mithra, and Trainwreck.
Renegades!
Neither villain nor hero, Renegades live outside the world heroes are most familiar with. They may find themselves allies of your heroes one day and foes the next! Each Renegade is designed with strong motivations and themes to help make them memorable additions to any story.
Includes: Blatto, Covenant, Doctor M, Manitou, and Nikkit Tesla.
…
Each featured character comes with a full-color illustration, rules write-ups for Mutants and Masterminds Third Edition, detailed backgrounds and motives! There are also pages of color standees for you to print/copy and play with at your gaming table.
The Digital Download version of this product (PDF Format) also includes Hero Lab portfolio files for each character presented in the book! Get the PDF version of the file for only $5.00 more when you buy the Print on Demand!
Authors Jack Norris, James Dawsey, Rick Jones, Nathan Kahler, and Aaron Sullivan proudly present this collection of over twenty issues in the Rogues, Rivals & Renegades series. With over one hundred pages of full-color content, illustrated by Alex Williamson and Dionysia Jones, this first collection is now available in PDF and Print on Demand versions.
Rogues, Rivals & Renegades… because you need more than Heroes and Villains to tell superhero stories!