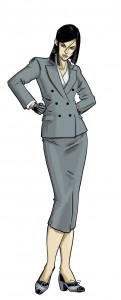 I'm very pleased to announce the launch of Due Vigilance: Black Chapter! The latest in our series of building-block books for your superhero setting!
Black Chapter introduces the organization "The Library" in great detail, with history, devices, and perks for membership (should your players decide to join)! Also included are 14 fully-statted characters, full-color artwork, cut-and-fold Standees, and adventure hooks for ready-set-go adventure ideas! The titular team "Black Chapter" can be uneasy allies for your players, or challenge them if the Library and the players ever find themselves at cross-purposes. Black Chapter are dark, dangerous mystic agents of the Library, and will let nothing stand between them and their goals!
Written by Jack Norris, Author of Due Vigilance: The Oktobermen, Black Chapter takes up some of the mysterious plot threads left dangling by that earlier product and weaves them into a larger narrative. Artwork by the amazing Alex Williamson highlights the cover and interior illustrations, as well as art by Denise Jones, Jesse Justice, and James Dawsey!
31 pages, full color, jam-packed with mystery, madness, and magic!
Dare you open… the Black Chapter?