Pacific Northwest expands the Nuclear Sunset setting, now available for Mutant Future!
Published
July 29, 2016
|
By
James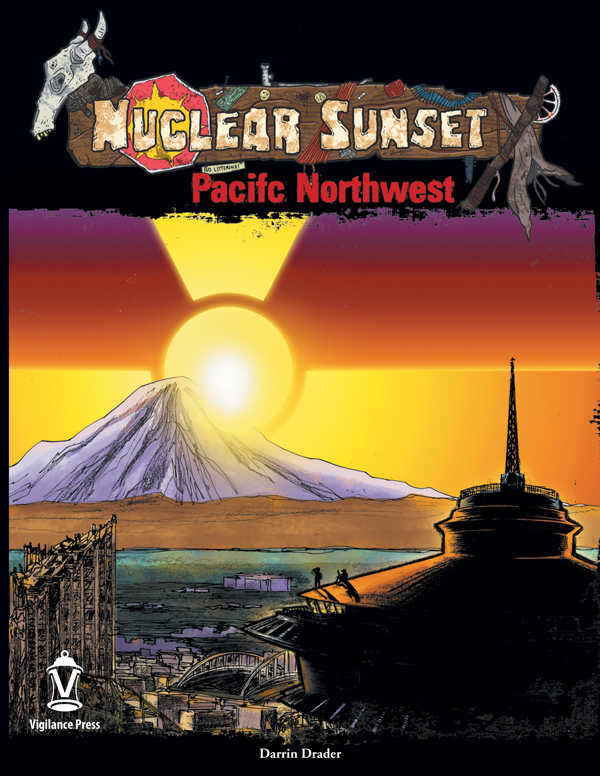 The world may have ended, but life goes on.
The world of Nuclear Sunset expands with this new supplement from author Darrin Drader. Explore the Pacific Northwest and encounter tribes of savage mutant frogs, the samurai legion, the Silicon Syndicate, and a bestiary's worth of mutant creatures! Meet the factions that have carved the Pacific Northwest up into a series of warring regions, and choose your alliances carefully, or risk being crushed under the bootheels of your rivals in the name of progress.
Now available from Drive Thru RPG and RPG now in both PDF and Print on Demand versions!
More details after the break!
In this Post-apocalyptic campaign supplement you'll find over 40 pages of content, including:
Settlements, Cities, and Ruins: Locations all over the Pacific Northwest are detailed, including their post-war histories and plot hooks for each location. Will you hunt the fifty-foot mutant Crawfish in Lake City, or trade fire with bandits outside of Bosseye? Dare you explore the ruins of Seattle?
Entities of the Northwest: Here you'll find more information on factions and important personalities who inhabit the region. From the Marshalls and their quest for justice to the soldiers of the Fort Lewis Division, you'll find the entire region filled with characters who'll add depth and excitement to your Mutant Future setting.
A bestiary of Mutant Creatures: From the strange green-furred Mintars to the towering Cthulhoids, there are beasts of many different scales to introduce to your campaign. Complete statblocks and full-color art help bring these creatures to life to populate your post-apocalyptic wasteland.
Authored by Nuclear Sunset series creator Darrin Drader, Nuclear Sunset: Pacific Northwest further expands on this region originally glimpsed in his novel Legacy of Ruin, also available from Vigilance Press. Designed to be compatible with the Mutant Future role-playing game, this book is fully illustrated by Alex Williamson to breathe all-new life into the irradiated wastelands of the Post-War Northwest United States.
Check your water bottle, your ammo, and your courage. Prepare to enter an all-new region in the world of Nuclear Sunset!